Birmingham taxi driver Ihsanullah Sarfaraz jailed for raping passenger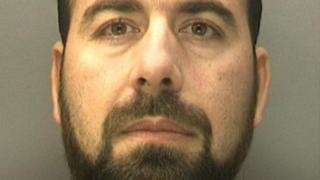 A taxi driver who raped an 18-year-old passenger in a "horrendous" attack has been jailed for 10 years.
The victim and her friend hailed Ihsanullah Sarfaraz's private hire taxi after a night out in Birmingham city centre in October.
After dropping her friend off, Sarfaraz drove the teenager to a secluded spot where he raped her, police said.
The 33-year-old from Birmingham admitted three counts of rape at the city's crown court.
'Knocked confidence'
His victim said: "On this particular day I used a vehicle I believed to be a private hire taxi and as always placed my trust and confidence in this driver.
"This man took advantage of his position and took advantage of my vulnerable position... he knocked my confidence completely and I struggle on a daily basis because of what he's done."
More updates on this story and others in Birmingham and the Black Country
Insp Ian Ingram, from West Midlands Police, said Sarfaraz, of Newmarket Way, Hodge Hill, had betrayed the woman's trust.
"This man, who was a licensed taxi driver, abused his position to prey on a vulnerable lone woman," he said.
"He has now been put behind bars for a very long time. He will also never be allowed to drive a taxi again and will be placed on the sex offender register for life."
Speaking after sentencing on Friday, he also commended the woman's bravery for coming forward and throughout the police investigation.