Boy in Birmingham 'locked in van and sexually assaulted'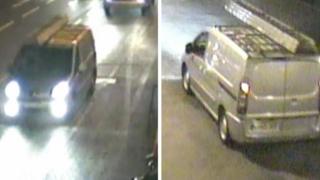 CCTV images have been released of a van suspected by police to be the vehicle in which a teenage boy was locked and sexually assaulted.
The 16-year-old accepted a lift from a man in Birmingham city centre after going shopping and missing his last train home, police said.
Moments later he was locked inside the vehicle and driven a short distance before being seriously sexually assaulted.
He was left badly shaken, police said.
More updates on this and other stories in Birmingham and the Black Country
The attacker picked up the boy in Kent Street at around 22:00 GMT on 30 November and drove him to nearby Claybrook Street.
Investigating officer Sarah Harvey, from West Midlands Police, said: "We've conducted extensive CCTV and ANPR enquiries and have secured an image of the van we believe was involved.
"It's distinctive in so much that it was carrying a ladder set on the roof and so may well be a works vehicle."
The offender has been described by police as Asian, in his 40s or 50s, with "bad teeth".