Birmingham and Smethwick attacks 'may have been carried out by same man'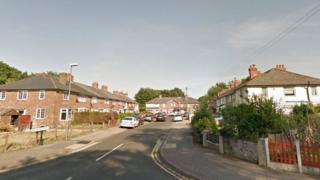 Two "machete" attacks that left three people hurt, including a two-year-old, may have been carried out by the same man, police say.
An attempted murder investigation was launched after the attacks in Smethwick and Birmingham on Tuesday.
Officers are now searching for a man who was seen in the area at the time of both attacks.
The suspect is described as mixed race, between 5ft 8ins and 5ft 11ins, and believed to be in his 30s.
'Horrendous attacks'
Police were called to Hales Lane, Smethwick, at about 18:30, where they found a 19-year-old man seriously injured.
A 35-year-old woman and her child were then attacked at a house in Penley Grove in Washwood Heath, Birmingham, at about 19:45.
The toddler was treated for minor injuries, while the woman was more seriously hurt.
A 35-year-old man and 40-year-old woman were arrested on suspicion of attempted murder and later released on police bail.
Det Ch Insp Tom Chisholm, said: "All the victims are still receiving care for their injuries and we are working closely with them to establish the circumstances that led to these horrendous attacks.
"Both attacks happened on the victims' doorsteps. Whatever affiliations people may have in the community, someone knows who did this, and they need to be stopped."