Man jailed for life for murder of Wolverhampton father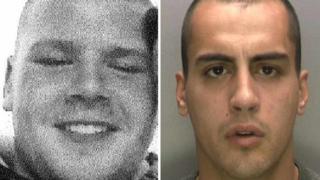 A man has been jailed for life and will serve at least 29 years behind bars for the murder of a young father.
Joshua Price, 21, was stabbed five times by David Watkins, who had lured him to his death in Wolverhampton.
Watkins, 27, of Clem Attlee Court, Stowlawn, was found guilty of murder by jurors at Wolverhampton Crown Court on Wednesday.
A second man, Jake Henson, aged 21, of Wellington Road, Bilston, was cleared of the same charge.
See more stories from Birmingham and the Black Country here
The court heard Watkins arranged to meet Mr Price on 27 September 2014 by arranging to buy a small quantity of cannabis from him.
Watkins and Mr Henson were both dressed in dark clothing with scarves around their faces and rode to the location on bicycles.
The court heard Mr Price left his partner to put their two-year-old son to bed and when he arrived at the rendezvous, Watkins launched an attack on him.
Det Insp Warren Hines, who led the inquiry, said: "We had a very clear picture of the events of that evening from CCTV cameras in the area and witness accounts, but the offender had dressed himself in dark clothing and covered his face, so we had difficulty in identifying him.
"Then at the end of October Mr Henson told his mother a distorted version of the truth about his involvement in Joshua's death.
"His mother, who knew Joshua and his family, was put in a difficult situation but did the right thing and reported what she knew at a police station."