Akhtar Javeed shooting: Hunt for man after Digbeth warehouse killing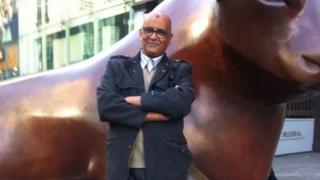 Police said they are still working with authorities overseas to find a man suspected of fatally shooting a businessman at a Birmingham warehouse.
Tahir Zarif, 25, of Derby, is believed to have fled to Pakistan after Akhtar Javeed, 56, was shot four times during a robbery in Digbeth on 3 February.
One man was jailed for manslaughter and two men for conspiracy to rob.
Meanwhile, Mr Javeed's family have paid tribute to officers who tried to save his life.
'Love and care'
Sgt Richard Nutt, Sgt Julie Kempson and PC Matt Moore were first on the scene after the father-of-four suffered gunshot wounds to his legs, chest and face.
Company director Mr Javeed from East Ham, London had been shot after refusing to open the safe at the Direct Source 3 fast food distribution warehouse, Birmingham Crown Court heard in September.
The three officers administered first aid in a bid to stem blood loss and performed CPR (cardiopulmonary resuscitation) for about 30 minutes, working alongside paramedics, West Midlands Police said.
They were awarded certificates by the Royal Humane Society at a ceremony on Thursday.
Mr Javeed's daughter Lilas said: "Without a second thought they put themselves in potential danger not knowing if armed robbers were still present.
"But most of all they showed him love and care in what turned out to be his last moments, after he had experienced such cruelty. They were there for him when we were not able to be…and it helps us to know he was not alone in his last moments."
Police are working with authorities in Pakistan and international policing organisation Interpol to try and trace Mr Zarif.