Man jailed after £150,000 rail delays in Wolverhampton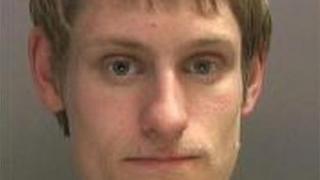 A man who caused train delays, costing the rail industry £150,000, has been jailed for 14 months.
Joseph Bradley, 24, sat on Crane Street viaduct in Wolverhampton, with his legs dangling over the edge, on 14 October.
Trains were put on hold as he refused to get down. Police said Bradley had previously been jailed for delaying trains on three occasions.
Bradley, of no fixed address, admitted obstruction of the railway line with intent.
See more stories from Birmingham and the Black Country here
During the two-and-a-half hour stand-off, Bradley refused to come down, claiming he "wanted to end it all", British Transport Police said.
Trains were put on hold while officers tried to persuade him to come away from the edge.
Police said he underwent a full mental health assessment and was deemed to have no treatable illness.
His actions delayed trains by 2,204 minutes.
Following Monday's sentencing at Wolverhampton Crown Court, Sgt Mark Hudson from British Transport Police, said: "There are people out there who are in genuine mental health crisis and who call the emergency services for help. Joseph Bradley is not one of them.
"He is fully aware of the consequences of his actions and has previously been jailed for doing exactly the same thing on three previous occasions in 2015," he added.