Sandwell Council: Ex-housing chief cleared by probe over mum's house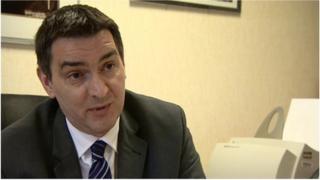 A senior councillor has been cleared of any wrongdoing after an allegation he urged his authority to buy back his mother's previously council-owned home.
Sandwell's former housing chief Simon Hackett was also alleged to have indecently exposed himself and asked for a parking ticket for a "relative or close associate" to be cancelled.
Mr Hackett dubbed the allegations "completely untrue" in May.
The authority said no further action would be taken.
Read more stories about Birmingham and the Black Country.
The council said it carried out a "thorough investigation" along the lines set out under the Localism Act 2011 and there was "no evidence of a breach of the members' code of conduct".
When investigations began, Mr Hackett, who is now overseeing children's services, said the allegations were "totally without foundation".