Wolverhampton Goodyear workers donate £1m to hospice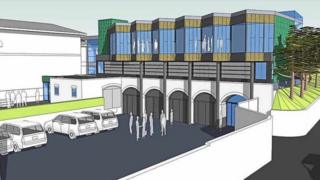 A hospice in Wolverhampton is to get a £1m upgrade funded by workers at the local Goodyear factory, which is scheduled to close at Christmas.
The building project at Compton Hospice will include the creation of a new "co-ordination centre" and revamp of current facilities.
It has been financed thanks to a trade union fund set up in the 1980s to support workers at the factory.
Unite said the hospice scheme would give workers a "lasting legacy".
In June 2015, US firm Goodyear announced the factory would close by the end of December 2016, with the loss of all 330 jobs.
It signalled the end of almost 90 years of tyre manufacturing at the site.
At the time, the company said the decision was due to a "challenging business environment, increased competition and currency headwinds".
'Powerful moment'
Cyril Barrett, chairman of the local Unite branch, said following consultation with members, the trustees of the Sick and Distress Fund had decided to donate all outstanding money to charity.
He said members were particularly keen to support Compton Hospice, which they had helped fund raise for over many years.
Claire Marshall, chief executive of Compton Hospice, said the new centre would allow it to co-ordinate services from a single point and provide a better service for patients and their families.
"The closure of that [Goodyear] plant is a huge loss for the Wolverhampton community. So, to be able to contribute to a project like this is a really powerful moment for them," she said.