Lorry wedged under Birmingham overpass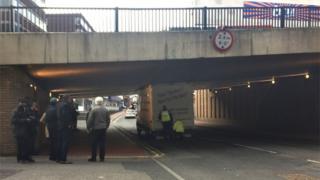 A lorry driver was left red-faced after his vehicle got wedged under a concrete overpass - the third to do so this year.
The 9ft 3in (2.8m) bridge in Birmingham's Dale End, which gets lower towards the centre, was struck at about 10:10 GMT.
The male driver was shaken but unhurt and was on the phone to bosses to explain what had happened.
Two lorries also became wedged in the same spot in February and June.
The 7.5-ton Isuzu commercial vehicle hit the underside of the overpass, which takes bus traffic in and out of the city centre.
More Birmingham and Black Country stories