Birmingham Riots: Wrongful arrest claim man wins payout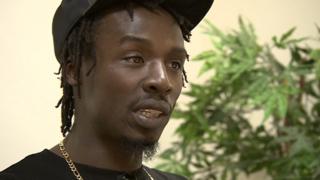 A man who claims he was arrested after the 2011 Birmingham riots because he was black has won a payout from police.
Emmanuel Prophet said he was at home watching television when the riots took place in August 2011. Police broke into his home days later.
He has now been given an out-of-court payment by police after claiming wrongful arrest and assault.
West Midlands Police said there was no admission of liability on its part and no officers had been disciplined.
More on this and other stories from Birmingham and the Black Country
Mr Prophet, 29, said he was in bed when police used a chainsaw to force entry into his home on 16 August.
He said he was hit in the head by officers after being told to get on the floor and had "no idea" how he was linked to the riots.
"Every day you're hearing about the black man being singled out from the community," he said.
"I believe they treated me as if they knew it was me and I hadn't done anything wrong."
Mr Prophet says he still gets "sudden flashbacks" to the arrest.
Following the out-of-court payment of £1,500, he plans to pursue a civil case against the force.
Errol Robinson, Mr Prophet's solicitor, said there was "absolutely no basis" for the arrest.
"The black community are not prepared to accept arrests simply because of ethnicity and appearance," he said.
"If they want to gain the trust and confidence of the community, they've got to act in a different way and certainly in a way that is lawful."
Mr Robinson said he understood Mr Prophet was arrested by police investigating attacks on the The Bartons Arms pub in Aston in August 2011 when it was firebombed and shots were fired at a police helicopter.
In a statement, West Midlands Police said: "Settlement has been agreed with Mr Prophet....without any admission of liability by West Midlands Police.
"Following an investigation by the Force's Professional Standards Department, no disciplinary action was taken against any officers involved."