Teen held after men hit by car in Solihull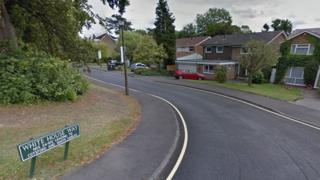 An 18-year-old driver has been arrested on suspicion of attempted murder after a group of men were hit by a car which then careered into a house.
Two men, aged 20 and 21, suffered internal injuries and multiple fractures after the crash in White House Way, Solihull, on Tuesday.
They remain in a serious condition in Queen Elizabeth Hospital, Birmingham. A 19-year-old has been discharged.
The driver was cut from his car by fire crews.
DS Jim Bennett said: "The precise circumstances are still unclear but we believe the driver deliberately targeted the injured men with his vehicle.
"We are at an early stage in our investigation and I'd like to appeal to anyone who was in the area at the time, if they have not already spoken to the police, to come forward."
The suspect is receiving treatment for his injuries and is awaiting questioning, West Midlands Police said.