Birmingham Dog Home boss arrested over £450k theft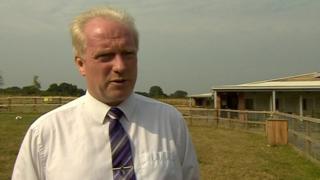 The boss of a dog charity has been arrested over the theft of £450,000 of donations.
Simon Price, chief executive of the Birmingham Dogs Home in Solihull, has been bailed by West Midlands Police.
John Wheatley, chairman of the home, said he was "bitterly disappointed" to confirm funds were missing.
He said the arrest followed an inquiry into a "financial irregularity" in the charity.
For more on this story and other Birmingham and Black Country news
Mr Wheatley said: "We are working closely with West Midlands Police in an attempt to recover the funds.
"I would like to assure everybody that the wellbeing of the dogs that our wonderful staff care for remains top priority and will not be affected."
The charity, which provided care and support to more than 3,300 stray and neglected dogs last year, marked one year since its £5.5m move to a new 12-acre site in October.
It cost more than £1.85m to run the home in 2015.
West Midlands Police said a 52-year-old man from Solihull was arrested on suspicion of theft and bailed until 9 December.
Mr Wheatley added that no account information had been jeopardised.