Man, 75, hurt confronting carjackers in Birmingham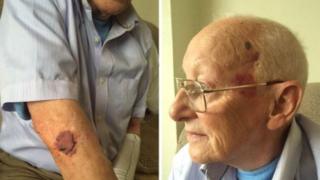 A man in his 70s was injured when he wrestled back his car keys in a bid to foil would-be carjackers.
Anthony Mathers, 75, was forced out of his car by three men with an imitation firearm beneath a railway bridge in Birmingham on Monday.
When the car stalled "yards" away Mr Mathers confronted the thieves, was pushed to the ground but took back his keys, West Midlands Police said.
A 17-year-old boy was arrested but released without charge.
Read more news for Birmingham and the Black Country
Police are looking for two other people caught on dashboard camera footage from the vehicle.
'Fight every time'
Mr Mathers had been forced to stop his car beneath the bridge on Roberts Road in Acocks Green before being threatened.
The three men, one of whom also had a large kitchen knife, forced him to get out of his Ford S-Max before driving off in it.
The former Land Rover worker said: "[One] pulled a knife and my reaction to that was 'If you come close to me, I'll stick that knife up your bum'.
"People of my age are entitled to a quiet life. They don't deserve people coming up to [them] trying to get their possessions off them so therefore I'd fight every time."
When the car stalled, residents came out to help and the trio, unable to start the vehicle without the key, ran off down Roberts Road.
Investigating officer Tom Lyons said: "Clearly this would have been a terrifying ordeal for anyone and I want to commend the bravery of the victim.
"Thankfully he was not seriously injured and his actions prevented the thieves from successfully stealing the car."