Man jailed over Smethwick internet cafe murder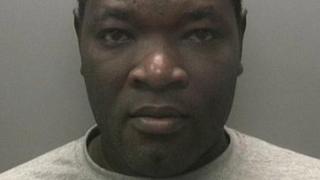 A man has been jailed after fatally stabbing another man he "had history with" in an internet cafe.
Jamaican Douane Brown stabbed fellow countryman Horace Williams in the neck at the shop in Smethwick in April.
After a five-day trial, a jury at Birmingham Crown Court found Brown, from Bickington Road in Birmingham, guilty of murder.
The 39-year-old was told he must serve at least 21 years behind bars.
Brown told police he had had problems with Mr Williams and had struck out in self-defence.
They exchanged glances across the cafe before he pulled a folding knife from his jacket pocket and launched the attack on the 36-year-old, West Midlands Police said.
Det Insp Justin Spanner said: "It's clear there was some history between the pair but the attack was seemingly spontaneous and not prompted by any aggression from Mr Williams.
"It was a shocking attack that will no doubt stay long in the memory of any witnesses; members of the public came to his aid and provided CPR but the injury was so severe there was nothing that could be done to save him."
He added: "I hope Mr Williams's friends and family can take some comfort having seen justice done and the knowledge that Brown will spend much of his life locked up."