Abused woman 'failed' as imam Hifiz Rahman flees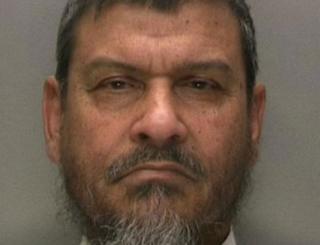 A woman who was abused as a child by an imam said she has been "failed by the justice system" after he was able to flee the country before being jailed.
Hifiz Rahman, 58, absconded after being convicted of sexually assaulting two girls at Queens Cross mosque in the West Midlands.
One said she was "angry and frustrated" he was able to leave the UK.
West Midlands Police said it was "making urgent enquiries to try and arrange his return".
More updates from Birmingham and the Black Country
The victim, who cannot be identified for legal reasons, was seven when the abuse began at the Cradley Heath mosque in the 1980s.
She said she felt she had been failed.
"It was a victory for me when he was found guilty. I was like, 'Yes this is it. He will go down for what he has done', and then he disappears.
"I'm so angry, so angry, frustrated. I've gone through so much to get to this point.
"Someone has to be blamed. Somebody needs to come forward and take responsibility for what they've done."
The woman was targeted by Rahman from an early stage, and he would single her out for abuse.
Rahman started by shaking her hand and tickling the inside of her palm, and eventually moved on to touching her elsewhere.
On one occasion, she said she threatened to tell her father about the abuse.
But Rahman responded by ringing the father and inviting himself round to the family's home for dinner.
"Everybody respected him," she said.
"They thought he was god... that's how we are taught: that he is the imam and you do as you are told."
Rahman, from Ballard Road, Netherton, did not attend the end of his trial at Wolverhampton Crown Court after claiming he was too ill.
West Midlands Police said they believed he boarded a flight to Bangladesh.
No warrant or remand was issued after his guilty verdict, it said.
"An 'all ports warning' information report was placed onto the Police National Computer advising that officers should be notified if he made any attempt to try and leave the country."
A spokesman for the judiciary said: "Whether or not to grant bail is a decision of the courts to make in accordance with the Bail Act 1976. The Act provides for a general presumption that bail will be granted in all cases, except in specific circumstances.
"In this case the judge heard arguments in court about whether bail should be granted and Mr Rahman was subject to conditional bail."