Plans to shut New Art Gallery Walsall would be a 'disaster'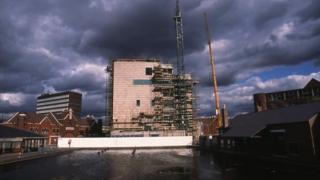 Plans to withdraw funding from an art gallery would be a "complete and utter disaster for the arts in Britain," an artist has said.
Walsall Council has said it is looking at closing the New Art Gallery due to "continued austerity".
Former artist-in-residence Bob and Roberta Smith said closing it could encourage other councils to sell key cultural sites.
More than 1,200 people have signed a petition opposing any closure.
The gallery, which was opened by The Queen in 2000 and was one of several cultural projects built for the millennium, gets about 200,000 visitors each year, according to the council.
It has featured exhibitions from Andy Warhol and Damien Hirst.
Other buildings funded at the time include the Lowry in Salford and the Eden Project in Cornwall.
More on this and other stories from Birmingham and the Black Country
Smith told Radio 4's Front Row the gallery was a "huge landmark" in Walsall and does "extraordinary work" in the area.
He said the council was "in a tough situation" and called on Arts Council England to help create a national endowment fund to support under-threat cultural projects.
"It's such a beautiful building, and of course it's a building for the people of Walsall," he said.
A spokesman for Walsall Council said the authority has to save £86m by 2020, and is working with residents on preserving the most important services. The consultation ends on 1 November.
Peter Knott, area director for Arts Council England, said it cannot use its funds to replace local government support but is "confident" Walsall Council recognises "the great value of our combined investments into art and culture" in the area.