Plans to cut Walsall Council libraries from 16 to one revealed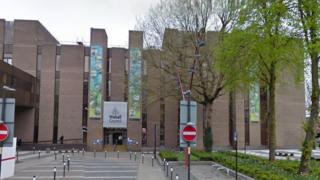 Plans to cut the number of libraries from 16 to one across Walsall have been revealed.
The proposals are part of planned £86m cuts by the end of the 2019-20 financial year at Walsall Council.
Charging for green waste collections and closing council cricket pitches and bowling greens are also among the proposals.
The authority, a Labour-Liberal Democrat coalition, said it had to "look at everything... on the table".
Read more news for Birmingham and the Black Country
Branches across the borough would close under the plan, with just the Central Library in Lichfield Street remaining open.
Asked why leader Sean Coughlan had previously said in opposition there would be no library closures, deputy leader Lee Jeavons told the BBC: "When we looked at that last year, obviously we were in opposition.
"You don't get to see the books in opposition in the way that you do when you're actually in control.
"When we achieved control back in May along with our Liberal Democrat coalition colleagues, we found out that there was an internal pressure in terms of the budget in social care which was already at that point, in quarter one, £5,000,000 overspent.
"Now, we don't want to stop looking after old people, so we've got to look at ways of making that in-year saving and this is one of the options."
The authority said it wanted to hear residents' opinions.