Sean Kerr and Louise St John Poulton deny 'puppy farm' cruelty charges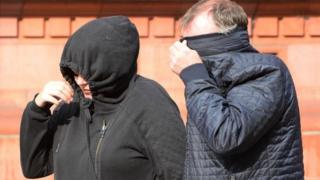 A man and a woman have denied animal cruelty charges after 37 dogs were found at a property which was allegedly being run as a puppy farm.
The RSPCA alleges Sean Kerr and Louise St John Poulton sold dogs from Pastures Farm, Solihull after offering them for sale on the internet.
Some were kept in areas with faeces and others needed veterinary care, Birmingham magistrates heard.
The pair will go on trial at the same court on 30 January.
Mr Kerr, 51, and 42-year-old Ms St John Poulton both denied seven counts of causing unnecessary suffering to dogs, and five charges relating to improper animal welfare.
More updates on this and other stories in Birmingham and Black Country
District judge Joanna Dickens heard that police and RSPCA officers executed a warrant at the pair's address on Coventry Road on 22 December after "various" complaints.
Iain O'Donnell, for the RSPCA, said: "They sold dogs from the premises having advertised them for sale on the internet.
"As a result of various complaints the RSPCA executed a search warrant on December 22 last year at Pastures Farm.
"Thirty-seven dogs were found that day, almost all of which were puppies and assessments were made as to the condition and environment they were found in."
Among those allegedly mistreated was a female cavachon, a male pug, and a female shih tzu, which the RSPCA told the court had been suffering from a variety of ailments ranging from a dislocated hip and weight loss to hypothermia.
"We say they were operating a puppy farm on a commercial basis, breeding animals for sale," Mr O'Donnell said.