Stephen Parkes 'admitted fox hunting to police'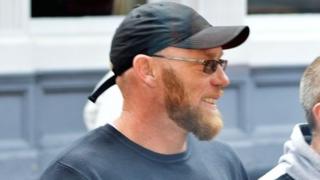 A man accused of hunting foxes on wasteland in the West Midlands admitted to police at the scene that he had been hunting the animals, a court has heard.
Police found Stephen Parkes, 35, in Walsall, with a shovel and two dead foxes nearby with their tails removed.
He allegedly said to officers "yeh, I'll hold my hands up, I was foxing".
His dogs had wounds consistent with being inflicted by a fox. But he later told police he lost the pets on a walk had to dig them out of a hole.
More updates on this story and others in Birmingham and the Black Country.
Mr Parkes, of Bloxwich Road, Walsall, denies fox-hunting contrary to the 2004 Hunting Act and two counts of causing unnecessary suffering to the dogs at Birmingham Magistrates' Court.
Two plain clothes police officers came across a group of men using torches on the land off Goscote Lodge Crescent, last November.
The group scattered leaving Mr Parkes and another man at the scene holding shovels, the court heard.
'Fresh blood'
PC Colin Kimberley said they could see "fresh dug earth, two dead foxes, blood-stained and lying next to each other."
Kyra Badman, for the RSPCA who is bringing the prosecution, said on being cautioned by police, Mr Parkes admitted foxing and sending his dogs into a hole but had to dig them out.
He confirmed that the two dogs, Jack Russell terriers named Bully and Ted, in a nearby Mondeo were his, she said.
But in police interview, Mr Parkes said the foxes had been killed by another dog and not his terriers.
The trial continues.