Two cats found 'tied up and killed ' in Wolverhampton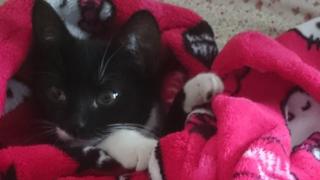 Two cats were found dead in the same street, with their legs tied up and serious injuries.
The RSPCA is investigating after the dead pets were discovered in Newbridge Crescent, Wolverhampton.
Black and white cat Tilly, 18 months old, had been missing for two days when she was found under a hedge on Monday.
She had wire flex tied round her legs and a cable tie round her neck. A second cat was found nearby but had been moved when an inspector arrived.
Tilly, who was found by her owners, also had serious facial injuries and missing teeth, "as though she had been hit with some force or run over", said the charity.
RSPCA inspector Nayman Dunderdale said: "Tilly had originally gone missing on Saturday 8 October, and her owners were very worried as she usually came home after an hour and she never went far.
"I have spoken to the owners and they are heartbroken, especially the children, who doted on her.
"It is very concerning that a second cat with similar injuries was also found. It would seem that somebody has moved the body of this cat and we urge them to contact us so we can examine the body.
"Very sadly it seems like these two cats' lives came to a very traumatic end as a result of deliberate cruelty. It is very disturbing that someone would do this."