Racing drivers jailed over '130mph' crash in Birmingham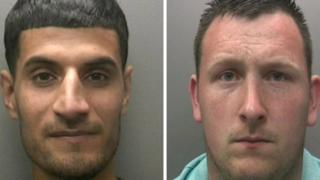 Two men who raced at speeds of "up to 130mph" before crashing into a driving instructor, leaving her brain-damaged, have been jailed.
Lee Round and Bashir Ahmadzai drove their vehicles "like Formula One cars" before hitting Kathrin Davies, 51, Birmingham Crown Court heard.
The fact she survived was "a minor miracle", Judge Richard Bond said.
Round, 26, and Ahmadzai, 22, had previously admitted causing serious injury while driving dangerously.
'Excessive speed'
Ahmadzai, of Rotten Park Road in Edgbaston, was jailed for two years. Round, of Larks Close, Kings Heath, was given a 20-month jail term.
The court heard the pair both drove without valid insurance at "excessive speed" for nearly a mile along Bristol Road South last November.
Ahmadzai raced his Volkswagen Golf ahead of Round's Audi with witnesses describing the cars passing them in a "blur" and "bumper to bumper".
Moped rider Alexander Masialik said Ahmadzai "appeared to be doing 130mph", blowing him "sideways" when the Golf overtook him.
He said he saw Ms Davies's car pull out of a side road and despite Ahmadzai "braking sharply" the Golf crashed into her Peugeot.
'Bleed on brain'
After the crash Round told witnesses: "Look, I've got kids, don't tell them how fast I was driving," the court heard.
Ms Davies, who has two children, spent three weeks in a coma with a bleed on the brain. She also suffered a broken back, pelvis and legs. Doctors said complications from her injuries may shorten her life expectancy.
In a statement read to the court, Ms Davies said she had lost her independence and could not get back in a car.
She said she suffered physical, mental and emotional trauma and had lost three months of her memory.
The court was told the pair later expressed "genuine remorse" for what the judge called their "disgraceful" driving.
Both men have also been disqualified from driving for two years.