Two libraries to shut and 24 jobs to go in Birmingham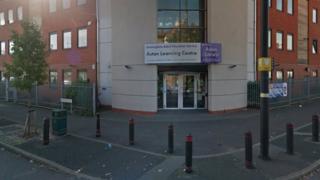 Two community libraries could shut and jobs could go as part of cost-saving measures put forward in Birmingham.
Aston and Sutton Coldfield libraries are earmarked for closure and a total of 24 jobs are set to be cut across the service.
Other community libraries could see their opening hours changed, Birmingham City Council said.
Opponents to the plans said the services could be saved by bringing other services into the buildings.
The Labour-run council currently has 37 community libraries, and has the equivalent of 112 full-time jobs.
More on this and other stories from Birmingham and the Black Country
Sutton Coldfield library is the fifth most used in the city, but it has been earmarked for closure because of its closeness to other libraries, a spokesman said.
To compensate, the hours at Mere Green library (about 2.4km/1.5miles from Sutton Coldfield) will be increased and at Birchfield, which is the nearest to Aston (a distance of 1.1km/0.7miles).
Ian Ward, deputy leader at the council, said cuts in central government funding meant the council had to look at alternative ways of running the service.
The service currently has a savings target of £1.4 million in 2016/17, rising to £1.95 million next year, he said.
'Coffee franchises'
A total of 19 libraries will open for 35 hours per week and another 10 will be open for 21 hours per week. Six will be run by community groups.
Consultation on the plans will begin after the plans have been looked at by the full council later this month.
Robert Alden, Conservative party leader, criticised the planned closures, saying services could be saved by bringing "coffee franchises" and other facilities into libraries.