Kings Norton road closed by chemical tank leak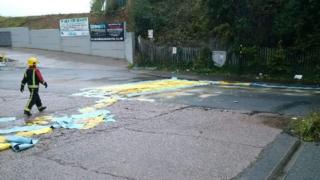 A Birmingham road is expected to be closed until Monday after damage caused by a chemical leak.
Firefighters advised drivers to avoid Lifford Lane, Kings Norton, after the "non-hazardous" spill about 08:30 BST.
About 600 litres of a "concrete super plasticiser" escaped from storage tanks. The cause is being investigated, the Environment Agency (EA) said.
The actions by fire crews and EA officers meant "there has been no environmental impact", it added.
"We have been informed that the road is likely to remain closed over the weekend to enable a full clean-up of the site," the spokeswoman said.