Birmingham Airport reveals plan for £100m investment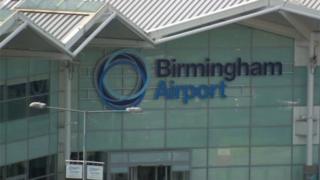 Birmingham Airport is to spend £100m on new baggage handling systems and car parks.
Bosses want to upgrade the baggage screening systems so they can double the speed luggage can be processed.
They also want to create two new car parks including a new drop-off car park with a covered walkway to the terminal entrance.
Existing car parks will also be upgraded and the number of self-service bag drop kiosks will be doubled.
Airport chief executive Paul Kehoe said they wanted to improve improve efficiency ahead of new flights being added next year.
He said the airport currently caters for 11 million passengers annually but said he expected it to rise to 12 million next year.
Airline Jet2 recently revealed plans to base four planes at Birmingham from next summer, serving 15 destinations.