Former MP John Hemming takes fly-tipping fight to United Nations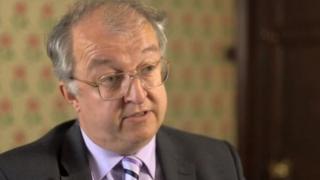 A former MP who says he has a £30,000 legal bill after trying to force a council to clear fly-tippers' waste has taken his battle to the United Nations.
John Hemming said a member of a UN committee discussed his concerns in Geneva on Tuesday.
Mr Hemming asked Birmingham City Council to clear the dumped garden waste in 2014 when he was Liberal Democrat MP for Birmingham Yardley.
He twice took the council to court but judges ruled against him both times.
More on this and other Birmingham stories
Mr Hemming has now asked a UN committee to consider the issue under the Aarhus Convention which allows the public to raise such matters and covers public authorities' environmental obligations.
In court in 2014, Mr Hemming argued councils had a statutory duty under environmental protection legislation to remove the rubbish - to which he was alerted by his then constituents.
He had hoped a district judge at Birmingham Magistrates' Court would issue a litter abatement order requiring the council to act.
He failed and was ordered to pay council costs. A Court of Appeal bid ended with the ruling that Mr Hemming would have been unable to establish the original judge had made a mistake.
That left him with bills, he said, of about £30,000 including the council costs.
"I think it's quite positive," he said of the Swiss hearing - the findings of which are due Friday.
He hopes "a big aspect" will be acceptance "the costs [incurred previously] are disproportionate".
He also hopes feedback will eventually require a change in law "so people can get councils to clear up the rubbish" without risk of expense.
He said the council collected the 2014 rubbish towards the end of first proceedings, with the authority saying back then it made "every effort" to collect dumped green waste.