Guns Village school in West Bromwich to change its name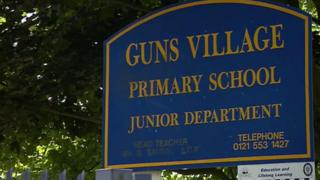 A school called Guns Village, named after its historical links with the gun manufacturing trade, is to change its name.
The primary school in West Bromwich dates back to 1878 and the name reflects the links of its former site to the manufacture of gun parts.
But a recent spike in gun crime across the Birmingham led governors to consider a name change.
It will be known as Hanbury Primary from September 2017.
More updates on this story and others in Birmingham and the Black Country
Dawn Cooper, head teacher, said: Many visitors to the school from outside the area have expressed surprise at the school's name and frequently it is misspelt as 'Gunns' in correspondence due to the disbelief that a school carries the name 'Guns' within its title."
She claimed staff were hindered when using IT systems as use of the word "guns" would see them blocked by sites.
A petition against the change attracted several hundred signatures.