Six plead guilty to running Birmingham brothel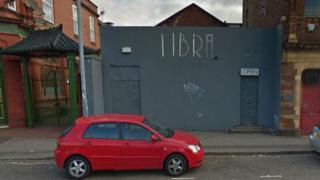 Six people have admitted helping to run a brothel which is believed to have netted more than £7m after attracting up to 200 clients a day.
Police raided the Libra Club in Summer Hill Road, Birmingham, last year.
The three men and three women, who admitted keeping a brothel used for prostitution, were granted bail and are to be sentenced on 17 October.
The prosecution dropped a case against a seventh defendant at Birmingham Crown Court.
Marilyn Egan, aged 55, of Elmwood Court, Edgbaston, Birmingham; Achilleos Neophytou, 66; Stefanos Neophytou, 25; Anita O'Donnell, 55, of Slade Lane, Hall Green, Birmingham; Ogun Olufunlola, 30, of Roseby Street, Springhill, Birmingham and Martin Tierney, 50, of Sheffield Road, Sutton Coldfield pleaded guilty.
The charge admitted by the defendants stated that they "acted or assisted" in the management of the Libra Club between 1 January 2010 and 1 February 2015.
The brothel was raided in the early hours of 10 February last year. At the time of the police operation, officers said that up to 20 women had been working there.
The raid, involving 50 officers, followed a series of incidents at the club, including an arson attack, a firearms incident and several outbreaks of disorder.