Birmingham street preacher 'abused woman over her tight jeans'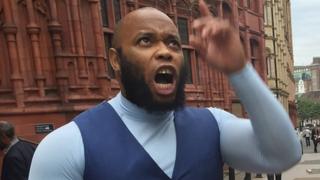 An Islamic street preacher threatened to blow up a Muslim woman's house and claimed she was Satan for wearing tight jeans, a court has heard.
Krissoni Henderson allegedly abused the woman on New Street in Birmingham on 4 July, city magistrates were told.
Noor Alneaimi said the incident happened after she stopped to listen to a Christian preacher.
Mr Henderson denies using religiously aggravated threatening words or behaviour.
'Burn in hell'
Giving evidence behind a screen, Ms Alneaimi said she was surrounded by friends of the 31-year-old Mr Henderson.
She said "all of a sudden" she heard him shout abusive language to a passer-by and then started calling females in the streets prostitutes.
"He wasn't preaching at the time - he was just a by-stander like myself," she said.
"He started saying things like 'Look at your tight jeans'. "He said 'You shall burn in hell, look at your jeans they are so tight. You will burn in hell for wearing such clothes'.
"I said 'I am going to report you to the authorities' and he said... I am going to come down your house and blow up you and your house'."
During cross-examination, she rejected claims that the only comment he made was a request to be left alone after she stared at him.
The trial was adjourned until 26 September.