Heart of England NHS Foundation Trust merger plan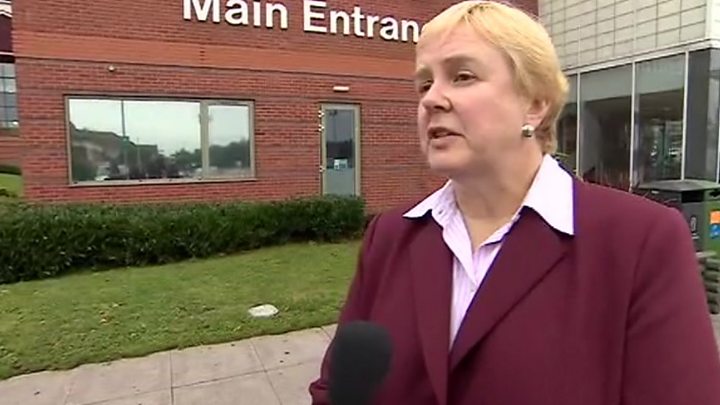 A struggling hospital trust will join with another to form a single organisation, under new plans.
Heart of England NHS Foundation Trust will combine with University Hospitals Birmingham NHS Foundation Trust (UHB).
The Heart of England trust treats about 1.2 million people in Birmingham, south Staffordshire, Solihull and Sutton Coldfield.
Health regulator Monitor began investigating last year when it ran up a deficit of £29.5m in five months.
In October 2015, the regulator announced it had found Heart of England was in breach of its licence to provide NHS services and "significant action" was needed to address this.
The proposal, revealed on Monday, would mean one combined trust running Queen Elizabeth Hospital Birmingham and Heart of England's current sites, which include Heartlands, Good Hope and Solihull hospitals, Birmingham Chest Clinic and Solihull Community Services.
It would also take on both trusts' satellite services. It would serve a total of 2.3 million patients.
---
Birmingham and Solihull health demographics
Around 46% of the population covered by the Heart of England and UHB trusts live in the bottom 10% of deprived areas in England
Birmingham's life expectation is less than the national average - and the gap for men is widening
More children aged 10-11 are overweight when compared to the national average
One in three children in the areas covered by the trusts live in poverty
---
Former Home Secretary and ex-Redditch MP Jacqui Smith was appointed interim chair of Heart of England in December, while Dame Julie Moore - who has served as chief executive of both trusts since November - said the current arrangement was "not sustainable".
The announcement came against a backdrop of a 15% rise in people attending the A&E department at the QE year-on-year, Dame Julie said.
She said the new plans would "pool the best talent and leadership from both organisations" and "make the best use of the finite resources available".
In April, Heart of England met its financial targets in the month for the first time since the interim takeover, UHB said.
"The work undertaken between the two trusts has so far provided greater sustainability and certainty for patients, the public and the health economy in the long term," Dame Julie said.
"The single organisation will build on this."
There was "absolutely no desire or intention" to close any clinical or A&E departments, Dame Julie said, or to look for redundancies.
She said there would be a cost to the move but "there was also a cost to not doing it" as "at the moment the taxpayer is paying a lot to bail out an overspending trust".
The next step is to decide if the best way to create one single, legal entity is through an acquisition or a merger.
---
Analysis by Michele Paduano, health correspondent, BBC Midlands Today
For decades, it has been thought that there were too many hospitals in Birmingham and too much duplication.
A merger or acquisition involving the Queen Elizabeth and Heart of England trusts could help streamline services.
Clearly, with the need to save hundreds of millions from the health budget, that has concentrated minds yet further.
There are fears however that Heartlands Hospital, which serves some of the poorest people in Birmingham, could be the loser in such a deal.
One GP in East Birmingham told me he was extremely worried that the more affluent hospitals in South Birmingham, Solihull and Good Hope could be protected at the expense of his patients.
---