Wall Heath Hickory's Smokehouse restaurant fire began accidentally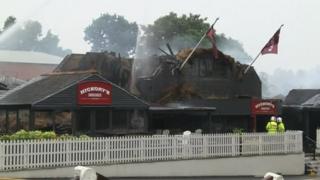 A fire that ripped through the roof of a site where The Beatles once played was an accident, investigators say.
One hundred firefighters were called to Hickory's Smokehouse restaurant in Wall Heath in the Black Country - a Grade II-listed former nightclub.
West Midlands Fire Service confirmed the blaze on 25 August was caused by an electrical fault in a fridge.
It said some of the roof collapsed into the restaurant at the site where The Beatles played in the 1960s.