Fire rips through Wolverhampton haulage yard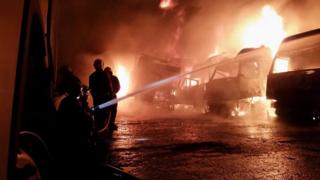 Explosions were heard as a fire ripped through a haulage yard in Wolverhampton.
Sixteen HGVs were consumed in the blaze at Hickman Avenue in Highams Park earlier.
Vehicles had containers attached to them and they were parked closely together, which allowed the fire to spread, the fire service said.
At its height, about 50 firefighters tackled the blaze.
The cause of the fire, which broke out at about 02:00 BST, is being investigated.
Steve Horsley, from the fire service, said: "Due to the containers being sealed with very little ventilation, the pressure builds up inside as the products inside combust and it increases the pressure.
"So this has an effect on the metal itself and if a small amount of air can get into it... it provides small explosions.
"The contents included tyres and wooden pallets inside as well, and because they were so closely parked together and also the fact that [there] were a lot of brick walls and fences, metal fences, it actually hampered our ability to get to the materials that were actually alight."