Birmingham man avoids Turkish extradition bid due to risk of torture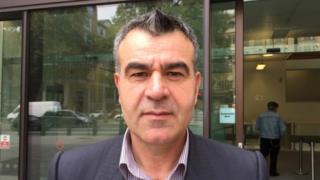 A man has escaped being extradited from Birmingham to Turkey after a court ruled he could be tortured and probably would not get a fair trial.
Restaurant owner Ibrahim Aksoy was convicted of being involved in the murder of an elderly man during a brawl between two families in Turkey in 2007.
This was overturned after he had been on remand for three years.
Turkey wanted him to be re-tried for the murder and related assaults despite the acquittals.
More on this and other stories from Birmingham and the Black Country
However, lawyers at Westminster Magistrates' Court successfully argued Mr Aksoy had suffered torture at the hands of the Turkish police and security forces, both while on remand and beforehand, due to his Kurdish ethnicity.
Critical of authorities
Father-of-four Mr Aksoy had successfully claimed asylum in the UK in the 1990s on that basis.
The court heard he had been beaten and kicked so many times he suffered from epilepsy and his right arm had been broken deliberately and had never recovered.
District Judge John Zani agreed with the defence's view that the fact Mr Aksoy had successfully told the Home Office he had been tortured would likely anger the Turkish authorities if he were compelled to return.
The Turkish government has seven days to appeal.