Protest against Babbs Mill park sell off plan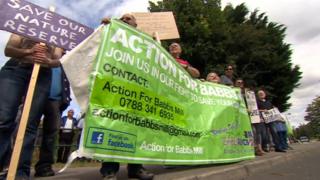 A protest has been held against possible plans to sell off part of a public park for development.
Up to 50 people turned up to the protest at Babbs Mill, a local nature reserve, Solihull, in the West Midlands.
Councillor Debbie Evans said the protest was to object to the declassification of part of the nature reserve and its disposal.
The council has said it is consulting on the proposal.
Sara Evans, who helped organise the protest, said residents had all joined together over the issue as the park was their "jewel in the crown."
Another protester said he saw his first kingfisher in the park and had brought down his grandson to show him.
"I hope my grandson can bring his children too," he said.
A spokesman for Solihull Borough Council said members of the public had until Friday to make their views known, after which the council will make a decision.
The council has been preparing for a possible housing development on the Cooks Lane area of the site. It has said the area up for consideration is "of relatively low ecological value" and that "a number of ecological and landscape enhancements are proposed" to make up for the land loss.
It also said the site has been earmarked for housing within the Solihull Local Plan.