Psoriasis sufferer 'treated like leper' calls for more awareness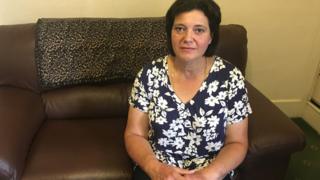 A psoriasis sufferer says she has been "treated like a leper" because of her condition.
Amanda Humphrey, 50, said she has been asked to leave swimming pools and had change thrown at her by shops assistants not wanting to make contact with her.
British Skin Foundation said prejudice experienced by sufferers has a serious effect on quality of life.
A campaign is under way to encourage people to talk about the condition.
Mrs Humphrey has had psoriasis - which causes sore or itchy patches of skin - since childhood and is an ambassador for the You Can We Did project.
"I don't think people appreciate how debilitating psoriasis can be," she said.
"Four months ago I had to go to A&E and was given morphine. They were treating me as if I had burns. I felt suicidal."
---
What is psoriasis?
Around 1.8 million people in the UK live with psoriasis
The skin condition is not contagious
A recent survey found 8 in 10 people with psoriasis say they have experienced humiliation and discrimination
52% feel the condition has affected their work life and of these more than a fifth (22%) endure colleagues making fun of them
Source: Novartis
---
A recent survey by Novartis found 78% of responders reported feeling discriminated against or humiliated due to the condition.
Lisa Bickerstaffe from the British Skin Foundation described the findings as "shocking".
"People have been denied service in a hairdressers', beauticians' or shop, and some have even been asked to leave public transport," she said.
Carla Renton, from Psoriasis Association, said awareness of the condition had increased due to celebrities such as Kim Kardashian speaking out about the condition, but an understanding of it was still low.
"It's a visible condition, which can be alarming for people to see. There is misunderstanding it's contagious or a sign of bad hygiene," she said.
Mrs Humphrey added: "If people ask me what it is then I'm happy to explain, but if people treat me like a leper it really affects me."