Motorist makes lucky escape in Dudley crash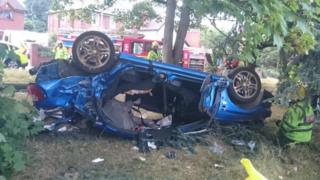 A motorist made a lucky escape after his car overturned and he was left trapped for half an hour.
A resident on Stream Road in Kingswinsford, Dudley, called emergency services just before 05:30 BST on Thursday saying they heard a "massive bang".
The driver, who was the only passenger, suffered back injuries and was taken to hospital, said West Midlands Police.
The fire and ambulance services also attended and the road was closed off.
No other vehicle was involved in the collision, which was near Bromley Lane.