Recycling yard fire in Black Country investigated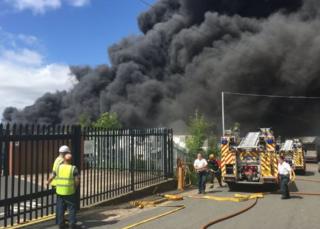 An investigation is under way to determine the cause of a large fire at a recycling yard.
Seventy firefighters tackled Sunday's blaze at the yard containing plastics and foam off Rufford Street, Lye, Stourbridge.
Neil Griffiths, from West Midlands Fire Service, said the area hit by the fire was "devastated".
Crews saved two nearby buildings and "ultimately the businesses" being run from them, he said.