All night roof stand-off in Willenhall ends after 21 hours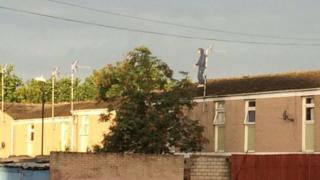 A man who spent the night on the roof of a house in a stand-off with police has handed himself in after 21 hours.
The 23-year-old was arrested in Coventry on suspicion of criminal damage and assaulting a police officer.
Officers in Willenhall went to arrest him for recall to prison when he allegedly took to the roof with a knife and made threats to kill them.
Two police officers were hurt and two patrol cars damaged by tiles thrown from the roof in William McKee Close.
The stand-off began at about 13:00 BST on Thursday and police negotiators worked through the night until the man came down at about 10:00 BST on Friday.
Rooftop stand-off how the drama unfolded
Willenhall Lane was closed at the Quorn Way junction and has now reopened.
Neighbours who were asked to stay indoors for their own safety are now free to come and go from their homes, said West Midlands Police.
Force incident manager Chief Insp Harvi Khatkar said: "We appreciate the massive impact on the local community and are grateful for their support and patience yesterday and this morning."