Tividale factory severely damaged in blaze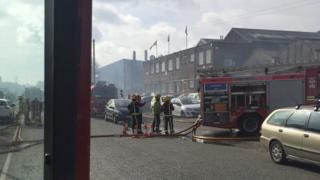 A fire has destroyed about 90% of a furniture factory in the West Midlands, the fire service said.
About 40 firefighters, some using a hydraulic platform, tackled the blaze in Hainge Road, Tividale, after an emergency call at about 08:30 BST.
The service said the fire was at the Sprite Leisure site which makes furniture for restaurants and pubs.
Richard Wood, commander at Dudley fire station, said the cause of the fire was being investigated.
Crews set up a decontamination post because of asbestos on the roof.