Suspended head teacher leaves St Barnabas Primary School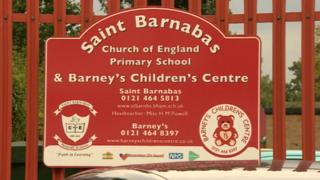 A head teacher suspended after "financial irregularities" were discovered at a Birmingham school will not be returning, it has been revealed.
Heather Powell was suspended from St Barnabas Church of England primary in Erdington in September.
The Church of England said she has now decided to step down permanently to deal with "a range of personal matters unrelated to the school".
Birmingham City Council has refused to reveal the outcome of the inquiry.
The school has declined to reveal details about the nature of the "financial irregularities".
More from Birmingham and the Black Country
The BBC understands a letter has been sent to parents saying there are no financial risks to the school's budget.
A statement from the Church of England said: "Miss Powell has made the decision to leave her post as head teacher of St Barnabas in order to deal with a range of personal matters not related to the school.
"She would like to wish the parents, staff and children at the school the very best for the future."
Chair of Governors Freda Evans said: "We have no financial concerns at the school and we have ended with a balanced budget for the current year."