Wolverhampton estate regeneration 'under way'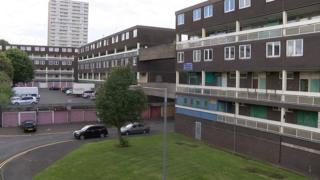 Long-awaited work to regenerate and modernise a housing estate in Wolverhampton has started.
Wolverhampton City Council said "pre-demolition work", including surveying land and re-routing underground pipes, had started at Heath Town.
The plans were put forward four years ago for 300 new homes and sports facilities.
The council said it would "transform" the estate, opened in 1969, with demolition taking place in 2017.
The council's deputy leader, Peter Bilson, said the council would appoint a developer "shortly" after receiving "positive" responses.
Community challenges
"The community deserves a modern, open and better quality place to live," he said.
"We appreciate that this won't happen overnight but people will start to see progress very soon."
The first phase of the work has started at Hobgate Road and is expected to be completed by September, with demolition of walkways and garages expected to start by the end of 2016.
John Felton, who moved to the area 15 years ago, said it had a "bad reputation" when he arrived, but had become a safer and nicer place to live.
"When I first came here it was a bit worse... [but] as the years have gone on it's got better and better."