3D aerospace technology 'helping to convict killers'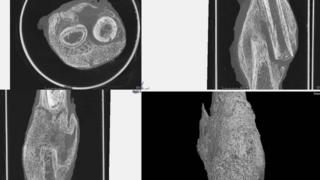 "Cutting edge" 3D scanning technology more commonly used in the aerospace and motor industries is helping to convict killers, police have said.
West Midlands Police said it has been working with University of Warwick researchers to develop "micro-CT imaging" for two years.
The work provides X-rays 43,000 times more detailed than hospital CT scans.
Police said it helped convict Kandyce Downer, who was jailed for life in May for murdering Keegan Downer.
West Midlands Police says it is the first UK force "to embrace the science to support investigations", which allows officers to examine evidence in detail as minute as one 17,000th of a millimetre, the same as "half a hair's breadth".
A force spokesman said 3D models had showed "a history of cruelty" suffered by toddler Keegan Downer, as well as proving to the jury her guardian had failed to get medical assistance for Keegan's broken leg.
"A bone callus formed around the injury initially hid that the broken bones overlapped slightly as they hadn't been medically straightened − but the scans revealed cruel Downer had let the baby suffer in agony rather than seek professional help," she said.
The toddler had 153 scars and bruises and suffered what police described as "barbaric and evil" treatment.
Det Supt Mark Payne said the technology was also helping eliminate foul play in complex cases - sparing expensive, time-consuming murder investigations.
"The technology is helping improve our understanding of injuries at the outset of investigations," he said.