'Unacceptably low' standards in Black Country secondary schools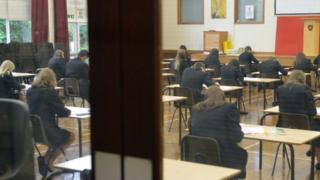 A government watchdog has raised concerns over "unacceptably low" standards in secondary school education in the Black Country.
Lorna Fitzjohn, head of Ofsted in the West Midlands, sent an open letter to four councils, academy trusts and MPs.
Ms Fitzjohn said pupils' achievements by age 16 were "poor" in comparison to elsewhere in the region and nationally.
The Department for Education (DfE) said Black Country schools had "improved drastically" since its reforms began.
Ms Fitzjohn cited a "wide" gap between GCSE achievements of disadvantaged pupils and their better-off peers.
She also wrote that secondary schools were often failing to build on the success of pupils in primary schools with "much of their progress going to waste".
Ofsted said of 76 schools in the Black Country, 53 (70%) were academies and the rest local authority-maintained.
However, Ms Fitzjohn said the concerns were "prevalent in both types of schools"
"Too often weak performance of secondary schools is not challenged," she said, adding that not enough had been done to hold schools to account and there were too few good schools.
"Standards at the end of secondary school are unacceptably low," she said.
"Of 151 local authorities, Sandwell, Walsall and Wolverhampton are among the worst 25 in England for GCSE attainment. Dudley fares little better and is among the worst 35 local authorities in the country for secondary school attainment. In Walsall, barely half the pupils (51%) in 2015 attained five or more good GCSEs including English and mathematics... In Sandwell, that proportion was less than half (47%) and had dropped since the previous year," she wrote.
However, she said: "Some credit must be given to Walsall and Wolverhampton for improving their GCSE performance in 2015."
'Urgent action'
The DfE said there were now 48,724 more pupils in good or outstanding schools in the Black Country than in 2010 - an above average increase that was "testament to the hard work of teachers" implementing reforms outlined in its White Paper.
"But some parts of the country are not yet good enough. That is why we have introduced tough reforms to raise standards, improve the level of teaching in our classrooms and introduce real choice and accountability through academies and free schools," a spokesperson said.
Julien Kramer, the City of Wolverhampton Council's director of education, said it accepted more still needed to be done but "there has never been a better time to be a pupil in Wolverhampton".
He said: "Ofsted itself rates more Wolverhampton schools as either Good or Outstanding than ever before, with 83% of primary, secondary, nursery and special schools now holding one of the top two grades."