Developers chosen for £60m Wolverhampton shopping complex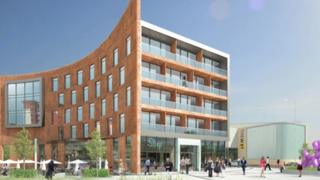 Developers for a £60m shopping complex to be built in Wolverhampton have been chosen by the city council.
The Westside development will cover a 6.4-acre site, including land occupied by the closed retail market.
Plans were unveiled at the Houses of Parliament on Tuesday, with Urban & Civic handed a six-month exclusivity period to develop the project.
The building is set be completed in two phases, with the final parts due to be finished by 2022.
Apartments, bars, a hotel, car park and a multi-screen cinema are all included in the plans.
More on this and other stories from Birmingham and the Black Country
John Reynolds, Wolverhampton Council's cabinet member for city economy, said the scheme could bring in 1,000 jobs to the city centre after years of struggling regeneration plans.
"We really hope this scheme will reinvigorate and redevelop this part of the city," he said.
Philip Leech, director at Urban & Civic, said the plans - which will be funded using the company's own cash reserves - would make "a huge difference" to the city.
He said: "We believe that there's a fantastic opportunity here to add something significant to the culture and economy of Wolverhampton."