Paul Gascoigne to face trial after denying 'race remark'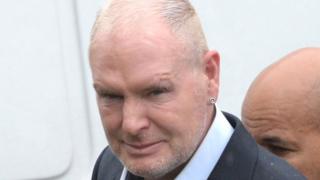 Former England football star Paul Gascoigne is to stand trial after denying making a racist remark.
The 49-year-old is alleged to have used "threatening or abusive words" towards a security guard during an "An Evening With Gazza" show in Wolverhampton in November.
He was granted unconditional bail at Dudley Magistrates' Court.
The former Newcastle, Tottenham, Rangers and Middlesbrough midfielder's trial is scheduled for September 19.
Mr Gascoigne, who lives in Dorset, signed autographs for fans who were waiting for him to arrive at court.