Loose Women star Jamelia in 'policeman' racial abuse claim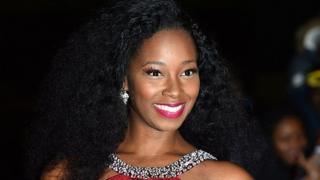 Singer Jamelia has claimed she and her daughters were racially abused by a man who appeared to be a police officer.
The Loose Women star, 35, said the man confronted her after she overtook him on the way to drop her children off at a railway station.
She said the man, who was not in a police car, had used a racial slur during an angry confrontation which was witnessed by her daughters.
West Mercia Police said it was not yet clear whether the man was an officer.
More on this and other stories from Hereford and Worcester
Jamelia said the exchange, in Barnt Green, Worcestershire, on Monday, had left her "feeling scared".
She believed the man was a police officer due to his white shirt and lettered epaulettes, she said.
The singer said the police response to her complaint had been "fantastic", and praised her children for criticising the individual "and not the police force as a whole".
"Despite my many negative experiences with the police, I have always made a conscious effort to not taint my daughters' view of them," she said on Facebook.
"I've always wanted my girls to trust and respect the police, and have confidence that they are there for their protection."
She also vowed to teach her daughters use of "black" as a slur was "absolutely ridiculous".
"Because being black is one of our most wonderful blessings, and only haters choose to see it as a curse," she wrote.
She also said she did not believe the incident was related to the rise reported incidents of racist abuse to police forces across the UK since the vote to leave the European Union last week.
Supt Helena Bennett, from West Mercia Police, said the clothing of the man described by Jamelia "differs from that of local operational officers", but said officers were examining CCTV footage in order to trace him.
"It is not clear at this time whether the man was a police officer or not and we are keeping an open mind as to his identity," she said.