Judge slams missing 'key documents' in indecent images case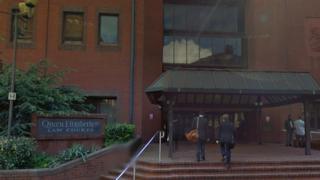 A pensioner charged with making indecent images of children has had his court hearing adjourned as a judge criticised the "wholly unsatisfactory" preparation of the case.
Brian Topliss was due to hear about the charges at Birmingham Crown Court.
Judge Stephen Eyre was told that no details had been uploaded onto the court's digital case management system.
Judge Eyre told the 72-year-old: "It is highly unsatisfactory this matter cannot be dealt with today."
He also told the defendant, of Water Orton Road, Birmingham: " That's not your fault."
More on this and other Birmingham stories
The QC for the Crown Prosecution Service, Martin Liddiard, said his "suspicion" as to why none of the key documents had been uploaded was because further police investigations were still continuing.
He asked for a four-week adjournment "to give Mr Topliss and his lawyers a full explanation of what is to take place, and get a better view of what charges he may or may not face" at the next hearing.
Judge Eyre told him: "It is putting it mildly to say this is not satisfactory.
"The defendant is 72, he's of good character, sent here from the magistrates on May 25, and faces serious charges."
No charges were read out during the hearing, and the judge was told that no draft indictment had been produced.
Defence barrister, Saleema Mahmood, said: "It would be equally, wholly unsatisfactory for me to try and advise Mr Topliss now, knowing I might have to advise him on other matters at a later date."
With an application to adjourn proceedings before him, the judge said: "I don't have much choice, do I?"
Judge Eyre adjourned the case until 20 July.