Ideas for Birmingham's Muhammad Ali site pour in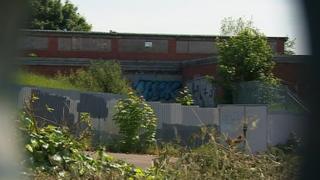 Ideas for a new use for the site of the former Muhammad Ali Centre in Birmingham have poured in following a public appeal, organisers have said.
Ali, who died on Saturday, opened the centre in 1983, but it was gutted in a fire about 15 years later and has remained unused since then.
Hundreds responded to a plea from community leaders for ideas of what the now derelict centre could be used for.
A major fundraising push will be needed to reopen it, organisers say.
The site is being run by enterprise group Kajans, who took over the running of the Icknield Street site from the city council in 2012.
Posters appealing for ideas about what people want to see at the site went up in shops about three months ago and volunteers helped distribute leaflets.
Project leader Hermin McIntosh said there had been more than 500 responses.
"The main ideas revolved around bringing the community together," she said.
"People like the idea of having a medical centre and somewhere that offers training and workshops."
The idea of reopening the centre is very popular at this point in time, she said, and added people had been aggrieved when it closed down.
"But a lot of people realise the city council does not have the money to keep it running and now they want to see something happen," she said.
"It is too important to let go."
The actual building itself is not fit for any purpose and will need a rebuild.
The ideas will be collected together and meetings with designers will be held before a push for fundraising begins.