Birmingham's Grand Central creating sun hotspots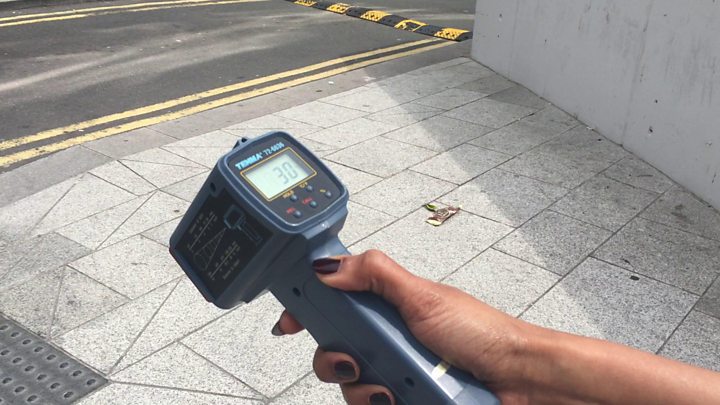 Light reflecting from Birmingham's Grand Central shopping centre has left some people feeling "blindsided".
Some commuters and residents say the building's mirrored design creates hotspots around New Street station.
Surrounding businesses have said they have seen a "significant difference" in how hot it has been since the revamped complex opened in September.
Network Rail, which helped deliver the station rebuild and new shopping centre, said it had not had complaints.
The most notable heat spot is on Navigation Street close to the station's vehicle exit.
Sandeep Kaur, who commutes between Birmingham and Worcester every day via New Street station, said: "I'm surprised it hasn't caused damage to the pavement. A lot of the time I'm blindsided by it. It catches you off guard," she said.
Some have taken to social media to complain, with @MikeCorruption tweeting: "If you stand outside Birmingham New Street station in the sun you can slowly become a roast potato. Damn those mirrors reflecting the sun".
Ferzana Koser, manager of Polo Pasta on Navigation Street, said: "We have noticed a significant difference since this time last year.
"Staff here feel really tired and uncomfortable because of how hot it is with the sun bouncing off the station," she said.
Two doors away, Swapong Nakwong who owns Wok Your Way said: "It gets very hot in the morning. Why did they make this design?"
A Network Rail spokesman said: "Geometric software was used to minimise glare on each elevation of the stainless steel facade on the transformed Birmingham New Street.
"Certain sections have also had their surface dulled," he added.
In 2013 London's Walkie Talkie building hit the headlines after the light reflecting from it melted parts of a car parked on a nearby street.