Sandwell hospital trust to axe 450 jobs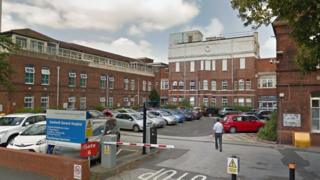 A hospital trust is to axe 450 jobs to save £30m, it has been announced.
Sandwell and West Birmingham NHS Trust said it needed to "deliver safe care within a budget".
The trust runs Sandwell General Hospital in West Bromwich, City Hospital in Birmingham and Rowley Regis Hospital.
A consultation into the job cuts, which will affect 250 permanent staff and 200 temporary roles across all departments, will start next month.
Latest updates and reaction, plus more Birmingham and Black Country stories
The trust has a £430m annual budget to run a range of services including two hospitals in Birmingham and the West Midlands for more than half a million people.
It is also building a new 'super-hospital' in Smethwick, which will cost at least £588m over a 30-year contract, and is due to open in 2018.
Raffaela Goodby, director of organisational development, said: "Like all NHS organisations, we need to deliver safe care within a budget.
"We have been explicit for several years with our staff, trade union partners, local taxpayers and NHS commissioners, that this will involve reducing the amount we spend on our pay costs, whilst increasing and protecting staff training spend.
"This July we will take the latest step in making those changes as we consult on the redeployment of staff, and changes to roles across our organisation."
The trust employs about 7,500 people.
Unite regional officer, Frank Keogh, said the union was trying to mitigate job losses.
He said: "At a time when the population is growing and the demand for new treatments rising, we strongly deplore the announcement that up to 450 jobs are under threat at the Sandwell and West Birmingham NHS Trust.
"The funding crisis facing the NHS in Birmingham is not unique and many other trusts across England are feeling the malign effects of the continuing financial strait-jacket."