Roger Gower: Pilot unlawfully killed in Tanzania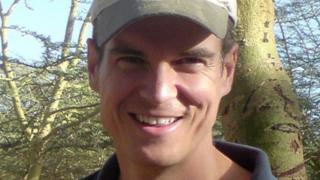 A British helicopter pilot shot by suspected poachers in Tanzania was "unlawfully killed", a coroner ruled.
Roger Gower, 37, died doing "heroic and important work" to stop elephants being killed for their tusks, an inquest in West London heard.
Attackers with AK-47 assault rifles brought down the helicopter over the Maswa Game Reserve in January.
Mr Gower survived the crash but was badly wounded and died waiting for doctors to reach the remote location.
Mr Gower, originally from Edgbaston, Birmingham had been working for the Friedkin Conservation Fund at the time of his death on 29 January.
He was helping authorities track the men who had killed an elephant and stripped it of its tusks at the Mwiba Wildlife Ranch near the Serengeti National Park.
Helicopter passenger Nick Bester, who broke his back in the crash, described the moments leading up to the crash.
He said that after finding the carcass, Mr Gower had spotted a backpack containing ivory.
"We were then fired upon from bushes below us," he said in a statement read at the inquest.
"I looked over and saw (he) had been badly wounded, his right forearm was shattered and hung limp, his shoulder was also seriously damaged. He also had a visible wound to his right eyebrow."
Despite his injuries, Mr Bester managed to free Mr Gower, drag him to cover and bandage his wounds before collapsing himself.
The first rescuers arrived after two hours with limited equipment and it took several hours for a doctor to get to them, he said.
"Roger last made sound about five minutes before the doctor arrived, up until this point he had been conscious or semi-conscious," said Mr Bester's statement.
"The doctor noticed he was very cold when he arrived and asked us if Roger was still alive, he had no pulse and the doctor performed CPR for about half an hour but he was unable to resuscitate Roger."
Jeremy Chipperfield, the assistant coroner for west London, said: "Roger Gower was involved in heroic and important work when he was attacked by suspected elephant poachers, and the injuries sustained from the bullet wounds and or from the crash when his helicopter landed caused his death."